FIELD MEMORIES

Words: Colin Smith
Photos: Stephen Attong



Much like the act of playing soccer itself, our memories are both temporal and spatial.

Listen to the common commands you hear during the 90 minutes between kick-off and final whistle:

TIME!

You've got time on the ball.

Take the space.

Move into the space.

Play the ball to space.

Close the space.

Time and space.

Hidden away in the time and space of my memory is a catalogue of wide-open spaces of green outlined in white. Spaces that don't just exist in the landscape of my memory. They're permanent fixtures in my present day. Physical places I encounter as I go here and there in my hometown of Toronto – marking certain passages of time in my life.

I don't play soccer anymore. My body can't take it. I'm over 40 and I have osteoarthritis. I run now. Long distances. Marathons and other distances not quite so ambitious.

But I've always struggled to give up, let go, move on, forget. Games have a habit of lingering in my mind – win or lose (to me, any draw has a component of one or the other). Maybe that's why encountering one of these pitches of the past triggers a visceral reaction. My heartbeat quickens, my calves contract, my knees throb, and my mind wanders. A physical nostalgia.



My dad taught me to play. He grew up in Scotland and lived in southern Africa before moving to Calgary, where I was born.

He was my coach until I turned 16. And as with any good coach, he didn't just train me to compete on the field, he prepared me for life. One piece of advice he gave me before I left for Toronto in my early twenties:

"Wherever you go in this world, you'll make new friends if you can kick a ball straight."

In the face of urban isolation that a city like Toronto thrusts upon any newcomer, a random pick-up game on a vacant patch of grass offers a unique sense of familiarity and civic citizenship. Simply put: this game is a way to make the connections you need to feel like you truly belong somewhere.

There are five fields, in particular, that stand out to me. Landmarks. Places where I won and lost, made an impression. I remember them. And they might remember me.



1. Lamport Stadium
I arrived in Toronto in 2005 to study journalism at Ryerson University and I had a year of university playing eligibility left. That's how I ended up at Lamport Stadium one September afternoon for a walk-on tryout.

I mapped the route on one of those massive fold-out TTC maps called The Ride Guide. The journey took me on a long streetcar trip from east to west along King St. from Yonge St. It was one of my first times seeing these parts of Toronto. Through the Financial District, past block after block of nightclubs and restaurants I could never afford as a student, into a neighbourhood I would later call home, Parkdale.

When I got off the streetcar I saw the field and panicked. I wasn't told the surface was artificial turf. The old, threadbare type that wouldn't make it easy at all for me in the pair of Nike Mercurial Vapor II that I'd been playing in that year.

But I had no other shoes to play in. And there was no other tryout planned.

To this day, I still don't know how I stayed on my feet during the full-field scrimmage. Taking up my natural role in the centre of midfield, just sitting behind the attacking line, I tried not to move too far, or too fast. I did the easy things, let the ball do the work. About 15 minutes into the second half I noticed how high up the other side's back line was. I drifted up closer to the halfway line. With the ball at my feet, I shifted my body to play it out wide once again but instead popped it over the last defender who was stranded out of position. Then I ran like hell to chase the ball. A couple of touches later I stuck the ball past the goalkeeper and I knew I was onto another year of varsity soccer – and at least some of my tuition paid for.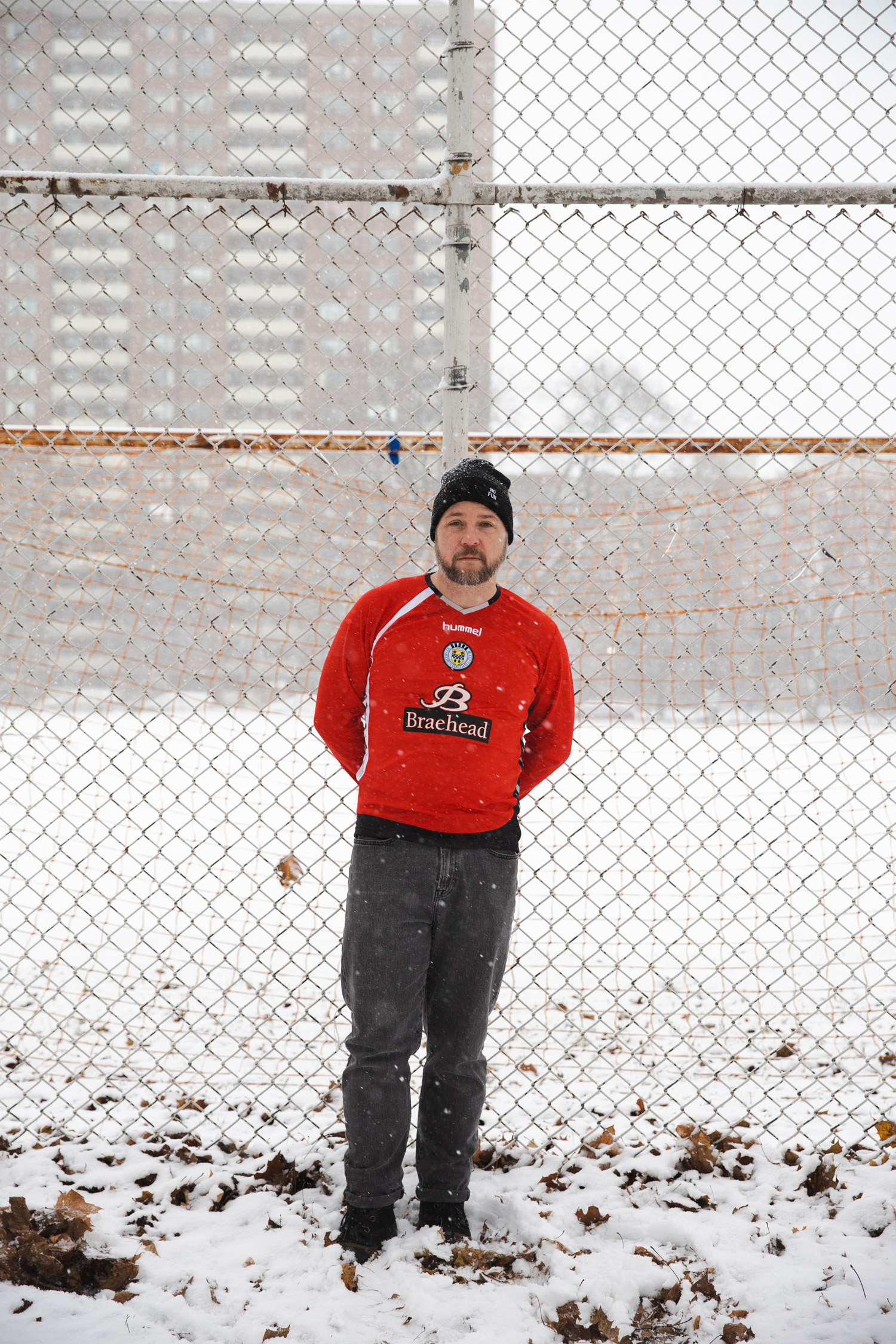 2. Dunn Avenue
I moved to Parkdale in 2006 and lived on Dunn Avenue. Just up the street was a school field that hosted a longstanding pick-up game every Saturday of the summer for the many Tibetan and Nepalese guys in the area.

I was working evenings back then and couldn't join a team as a result. So, I walked up one Saturday morning to get a game. I must have passed the visual scan because I was told to join a side. If I could only figure out which one. This regular game was sometimes seven-aside, 10-aside, 11-aside, 14-aside … and there was no visual distinction between the teams. No red and blue bibs. No shirts and skins. Just 35 guys, many of them related to one another, wearing jerseys from all the big European leagues. Viewed from the sidelines it was utter chaos. On the field, I figured a way through.

I was immediately called Johnny – a "white guy's name" they said when I asked. I had to devise a weird system that helped me figure out who was on my team and, more importantly, who wasn't. When you've got two guys wearing Liverpool jerseys on your team and three guys wearing Liverpool jerseys on the other team, you have to improvise. I managed to keep track of who was on my side by the boots everyone was wearing, since few players were wearing the same boots.

After a few weeks of playing, a few goals, and some reliable defending, I knew I'd become one of the boys when I was passing a front porch one night and heard "Hey, Johnny, you want a beer?"




3. Don Mills
I played for a few seasons in a shall-not-be-named co-ed recreation league in Toronto, sharing the field with some fantastic people. The owner of this league, however, was a bit of a shameless manchild. He would poach the best players from teams across the league to play on his own team (he tried to get me to move over a few times). He would intimidate the referees (that he paid the wages of). And he hated losing, especially to us.

So, when my rag-tag team managed to go the distance over one full-day tournament to meet this "select" team in the final I somehow uncovered an extra gear. I had to. Over the course of the day we lost two or three players, leaving for this or that because the hadn't anticipated us making the final.

A player down, I was up and down the field the whole game. The longer the game went without a goal the more I knew it was ours for the taking. And sure enough, with time winding down, we managed to take the lead and held on for dear life to the final whistle. Still one of the best cup finals I've ever played in.



I wound down my playing "career" on this small turf field playing 3v3 with some of the most enjoyable teammates and opponents I've ever shared a game with in Toronto. A vibrant mix of artsy creative types (musicians, photographers, bartenders) and a recent injection of Irish newcomers.

The games happened "early" on Saturday mornings. 9? 9:30? 10ish? Someone brought a ball. Someone else brought a couple small goals. Some inevitably brought a hangover. And if we had at least four of us it was game on for the best part 90 minutes.

These are fond memories of playing like children after school. I even had to knock on someone's front door to ask for our ball back one game. Some mornings, it was hard to hit the target. OK, I might have been the hungover one that day.


I had a press box seat for the first few seasons of Toronto FC. While working for the National Post, I was dispatched to cover the MLS newcomers and I felt like quite the hotshot reporter back then. Interviewing Mo Johnston, critiquing Adam Braz, eating free sandwiches at halftime.

So, over the years I've spent plenty of time at BMO Field as a reporter and as a supporter, but only twice as a player. During the annual NXNE music festival in Toronto there used to be a Musicians vs. Media charity match called Put the Boot In that I managed to earn an invite to. These were often one of the highlights of my summer and two of them happened at BMO Field.

Nothing much stands out from either of those matches, these events were famous for the afterparty and free beers. But it's always a nice thought whenever I go to BMO nowadays for a game to think about walking out that tunnel and onto the field. Even though the seats were completely empty, I let myself imagine the roar.
Read More