JULIAN RILEY
WHAT'S IT TO YA?
Photos:
Sean Pollock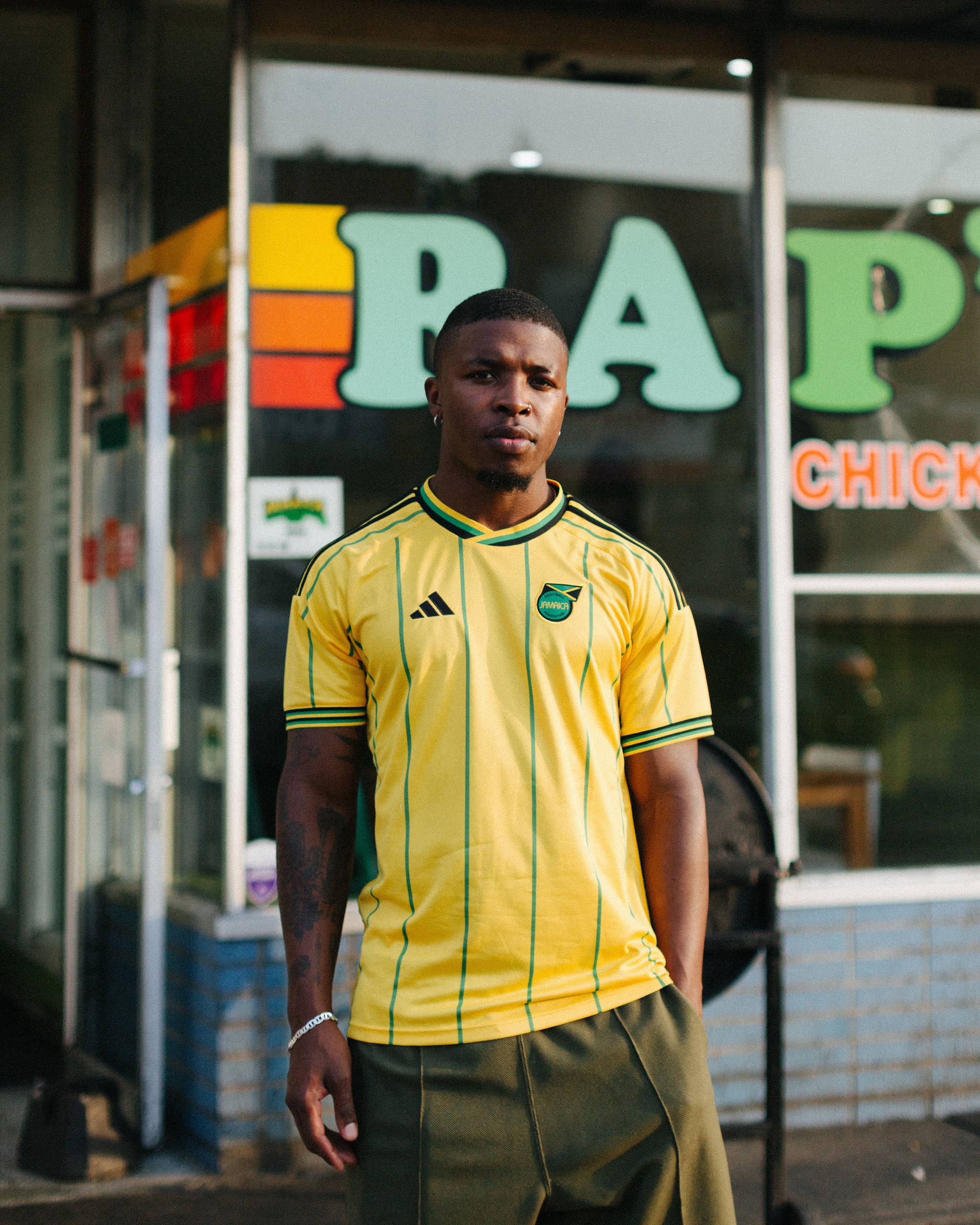 Julian Riley is a Toronto native and member of FC Cold Sand who wears his passion for football on his sleeve. His love for Jamaican football is present in everything he does from fitness to fashion.

First question, Why Jamaica?

Why not Jamaica? Growing up I always supported Brazil like every Jamaican does. I think it's the yellow jerseys. But in all seriousness, I think I wore this kit because it's a perfect representation of two of my interests - football + fashion. To have a kit officially designed by Wales Bonner is so cool to see PLUS in years prior you could barely find a Jamaica kit so glad I was able to get ahold of this one.


What feelings do you get when you put on that Jamaican kit?

I feel super proud when I wear this kit. I remember when we made the World Cup in 98 (our only appearance), my mom had my brothers and I in Jamaica 98 polos on picture day. My entire family had the same polo and when I got older I wore my dad's. I've always been loud and proud about being Jamaican so I wear this kit with absolute pride.


What do you think of the current revolution happening in Jamaican Football?

I'm really enjoying it. I'd like to see more players of Jamaican heritage join the program. We've been growing every year and hopefully, we'll see the Reggae Boyz in Canada come 2026. I will be there no matter what. Also Shoutout to the Reggae Girlz, a crazy story about the lack of infrastructure surrounding the program, but with the support of Cedella Marley and a host of others they were able to put a competitive team together this year in Australia. More support for women's football altogether!


Rate the current Jamaica kit compared to some of the past ones.

This kit is by far the best one. Some of the other kits I enjoyed were the Kappa 2010 kits, the Umbro away kit right before they switched over to adidas, and how can I not include our kits in 98? You know how many replicas of that kit I see these days? Iconic.


What is your earliest memory of watching Jamaica play?

Earliest memory of watching them play had to be World Cup 98. I barely remember the game but I do remember the excitement in the house. I think from that day I fell in love with football and I will delusionally support the reggae boyz for the rest of my days.


Do you think the Reggae boyz will make noise in CONCACAF?

I think our influence is certainly growing in CONCACAF. We definitely could have performed better in the Nations League this summer but the squad is only a year under our current manager and new players are joining the fold every tournament. With some consistency and more teams qualifying for the upcoming World Cup, I believe we can really make some noise over the next few years.


Was Jamaica vs. England lowkey a grudge match for you?

Jamaica vs England will always be a grudge match, high key. Shout out to all the brothers + sisters who play for England though.


What are your predictions for the future of Jamaican football?

I hope that we can continue to build successful and competitive teams. With more players of Jamaican heritage joining from Europe and North America, the infrastructure will continue to grow and my only hope is that we build teams to shock the world. Also, I hope that the impact of our national kits will continue to attract big names to help further support our programs. Like they say in Jamaica, we likkle but we large!



Read More